When creating this blog my ultimate idea was to create an archive of my journey through culinary school and beyond. In this, I want to include my ideas, techniques, recipes, and just have a record of my advancements through my cooking. Apart from that, I do not want this blog to simply just become an archive, an exoskeleton lacking personality and my ever-engrossing charm. I want to inspire all of you reading this blog. I want to give you all the passion I've discovered and maybe, just maybe teach someone something they didn't know, or offer an alternative to a well known factoid... at least one day. I really want to inspire you all to go out there and try something you never have, experiment, and learn to eat good food. Food to me is one of the most important escapes for anyone. It's a social medium, a place we can go when things just aren't going right, and even a way of life. I truly hope after reading my posts, and seeing how great (or how wretchedly bad) things turn out that this will inspire you to go and try new things for yourself! The farther I get into this field, the more I fall in love with it. It's a total joy to share with you all what I'm doing and learning.
This quarter I'm enrolled in Contemporary Cuisine! We're learning all about the techniques to make a plate look "modern," height, color, plate layout, etc.. It's all been incredibly interesting. Some of the "creations" we've all invented are... a little odd at times.. okay very odd. For example, seared tuna put over a bed of sushi rice. Sounds simple? Apparently, shaping it like an octopus and putting strange black goo all over it makes it modern. It looked a bit like an UFO rising out of the arctic wastes. Then you have my wonderful creation, unfortunately when changing phones I lost the pictures of it... It was steak with a red wine sauce over a three mushroom risotto. It looked like Stone Henge, not very appealing to me (although it was quite tasty, even if it did look a bit sacrificial.) Thankfully, my second dish came out much more aesthetically appealing and still retained its great flavor.
The dish I most recently did, and recovered pictures of, was a twist on a Jamie Oliver recipe. It was a pan-seared pork loin on top of a bed of broccoli covered in an Indian spiced yogurt. The flavor combination went as I had hoped and ended up quite tasty.
A little run-down on the process of creating this dish.. I gashed the loins, about 1 inch in on the fat deposit. This was so that the fat would render off a little bit during searing, it also made for
an interesting presentation focal point. I then seasoned the loins with a salt, pepper, and garlic mixture and threw them in a hot pan with some olive oil to sear in the juices. I didn't let the loins cook all the way through though, as the next step absolutely sold the dish in my opinion. I set the loins aside and caramelized some apple wedges, only doing so on one side. I then placed the apples with some freshly picked sage leaves on top of the loin, with the non-caramelized side down. I did this so that the juices from the apples would seep into the loin and help flavor it further. Then, popped the loins in the oven and began on the broccoli!
The broccoli was a very simple concoction that I found in my Jamie Oliver recipe book. Simply steam the broccoli till it's at your desired level, then throw it on a grill JUST long enough to get some nice char marks on it. Then comes the yogurt... Simply take some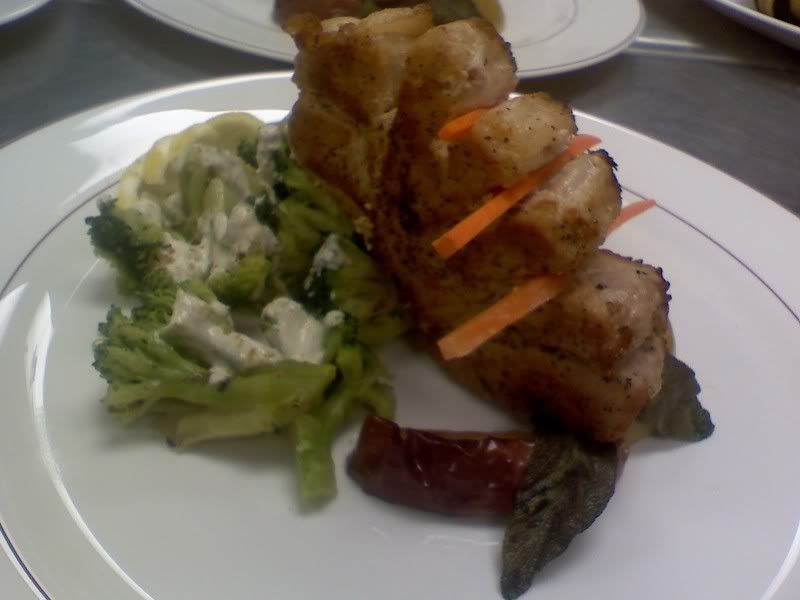 plain yogurt, add in some freshly ground and toasted spices, lemon zest and juice, and mix away. The flavor was almost that of an Indian curry. It was very interesting. The sweetness of the loins and apples played incredibly well off of the broccoli and yogurt. I apologize for the graininess of the photos, they were taken with an original enV cell phone and didn't come out quite as clear as I had hoped. Here's the final product!
Pretty soon I'll do a post over a couple of desserts I've done at the house and hopefully get some feedback on them! Thanks so much for reading guys, look forward to seeing your comments!
----------------------Ingredients----------------------
Pork Loin (inspired by Jamie Oliver)
Pork Loin - 9 oz.
Sea Salt TT
Black Pepper TT
Garlic Powder TT
Olive Oil
Apple Wedges - 2 to 3
Fresh Sage Leaves - 3
Broccoli with Indian Spiced Yogurt (inspired by Jamie Oliver)
Broccoli
Large Head of Broccoli
Sea Salt TT
Black Powder TT
Yogurt
Cumin Seeds - 2 tsp
Turmeric - 1/2 tsp
Fennel Seeds - 2 tsp
Cardamom Seeds - 5 pods
Natural Plain Yogurt - 1 Heaping Cup
Lemon (Zest and Juice) x 1
----------------------Procedure----------------------
Pork Loin
Preheat the oven to 400°F
Gash the pork loins about 1 inch in on the side with the fatty strains, then season the loins with your salt, pepper, and garlic combination.
Next, pour in a fair amount of olive oil into a pan and sear the loins until each side is golden brown, but make sure they're not completely cooked through. Then transfer the loins into a baking pan and set aside.
Now, caramelize one side of your apple wedges with a little bit of butter, you can also add some cinnamon if you want to vary up the tastes a little bit. Set 4 wedges a piece on top of the loins.
Dress the sage leaves in some olive oil, and set them on top of each apple stack.
Bake the apples for 4 to 6 minutes, or until they reach internal cooking temp of roughly 165°, (Pull them at 155° and you can retain more of the juiciness, the heat inside the pork will continue to cook them after removal from the oven and you'll achieve a safe zone of 165°.)
ENJOY!
Broccoli
Blanch the broccoli in salted water until tender.

I personally like to use chicken stock as I think it adds an extra zing. This is totally up to you.

Toss the broccoli in a little olive oil and throw it onto a grill! Do this very quickly as you'll only want to get a few char marks.

Toast your spices for 2 minutes and then grind them up. (You'll be able to smell them to know when they're ready, they become very aromatic.

Stir the spices into the yogurt, then add in our lemon zest and juice.

Salt and pepper the yogurt to taste and get your desired flavoring.

Place the yogurt over the broccoli and you're good to go.

ENJOY!
Thanks for reading guys!